Investment summary
- Industry Magnate in Lithium Resources and Lithium Salt Production with Pricing Power
- Downstream Demand Continues Increasing and Price Keeps Improving
- Result Jumped Fivefold in 2016 and Maintained upward in the First Three Quarters of 2017 with the Growth of 30%
- Capacity Expands Again and Results are Expected to Skyrocket
Valuation and Investment thesis
Tianqi Lithium not only holds shares of companies with the world's largest scale and best lithium ore resources in production, but also has the world's largest processing capacity on extracting lithium from ores. The advantages of unique resource conditions and pricing power make Tianqi Lithium the best investment object in upstream sectors of domestic new energy vehicle industry chains. We expected diluted EPS of the Company to RMB 2.19 and 2.69 of 2017/2018. And we accordingly gave the target price to 80.56, respectively 30x P/E for 2018. "Buy" rating. (Closing price as at 16 November)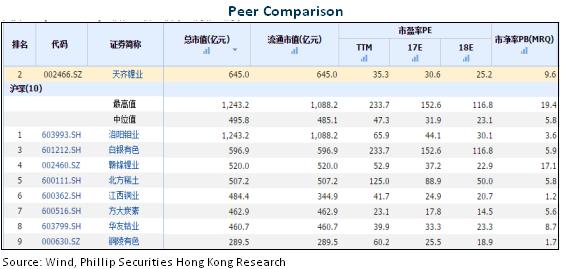 Company Profile: Magnate in Lithium Resources+Pioneer in Lithium Salt Production
Tianqi Lithium is a leading global supplier and the largest supplier in China of lithium battery core materials. It has established global presences in Sichuan, Chongqing, Jiangsu and Hong Kong, China,Australia and Chile, allowing the company to service customers across Europe, Asia, the Americas and Oceania. Its major businesses include lithium resource development and exploitation, lithium chemical product (lithium carbonate and lithium hydroxide, etc.) processing and lithium mining trade.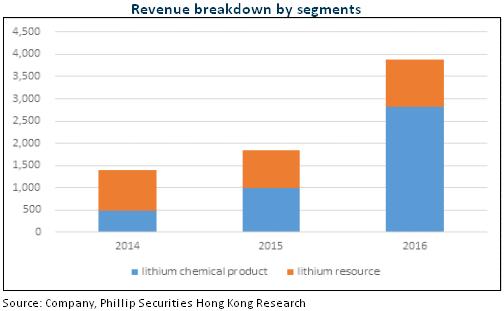 In terms of lithium resources, Talison Lithium, 51% of whose shares controlled by Tianqi, mines and possesses the world's largest and highest grade spodumene reserves in Greenbushes, Western Australia. There are 86.4 million tons of lithium reserves, equivalent to 5 million tons of lithium carbonate, with current annual capacity 740,000 tons of lithium concentrate. In addition, the company also owns two lithium resource reserves, namely, the spodumene mine in Cuola Spodumene, Yajiang County, Sichuan Province, and Zhabuye Lake in Zhongba County, Shigatse, Tibet (with 20% shares). The former reserve, as part of Jiajika Mine, the largest spodumene mine in Asia, has a proved lithium reserve of 19.71 million tons, equivalent to 630,000 tons of lithium carbonate. But it has not been mined yet subject to climate, transportation and other factors. The latter has 1.83 million tons of lithium resources, equivalent to 24.6 million tons of lithium carbonate, and a magnesium-lithium ratio of just 0.02, which make it the best potential salt lake with lithium resource in China.
In terms of its midstream lithium chemical products, the company has China's largest producer of lithium carbonate with two production bases of lithium chemical products so far in Shehong County of Sichuan Province and Zhangjiagang City of Jiangsu Province, respectively. In total, the two bases can reach capacity of 2,700 tons of lithium carbonate and 5,000 tons of lithium hydroxide. The company is a standard setter in domestic battery-grade lithium carbonate industry, whose production technologies of battery-grade lithium carbonate and battery-grade anhydrous lithium chloride, etc. are among the international advanced level. Advantages on scale, technology and industry chain allow the company to enjoy a strong power on market pricing and occupy approximately half of the domestic market of battery-grade lithium carbonate.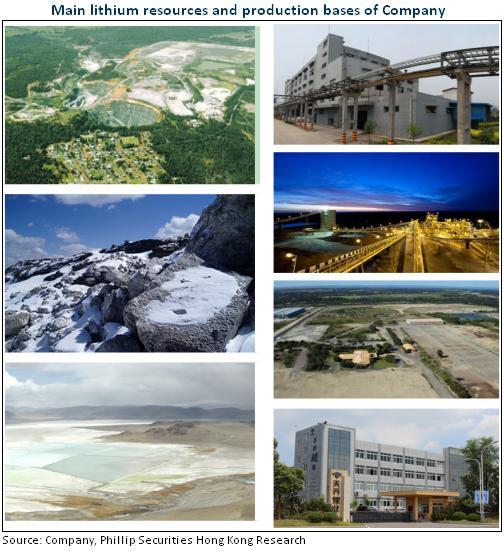 Downstream Demand Continues Increasing and Price of Lithium Carbonate Keeps Improving
In recent years, with the progress of science and technology, more and more diversified application chain are derived with lithium chemical products as a core such as lithium carbonate and lithium hydroxide, etc., forming a strong downstream demand. On the one hand, the development of hybrid electrical vehicles (HEV) and blade electric vehicles (BEV) has driven the worldwide explosive demand of products like battery-grade lithium carbonate and battery-grade lithium hydroxide, etc. On the other hand, the demand for lithium batteries in digital 3C products is still strong and the traditional fields such as glass and ceramics have kept stable for a long time. On the whole, the demand for lithium will remain strong growth momentum. According to the forecast of Roskill, an industry data service provider, global lithium demand will reach 1 million tons by 2026 and the CAGR will reach 18%. The main driving force comes from the battery industry, especially batteries for new energy vehicle.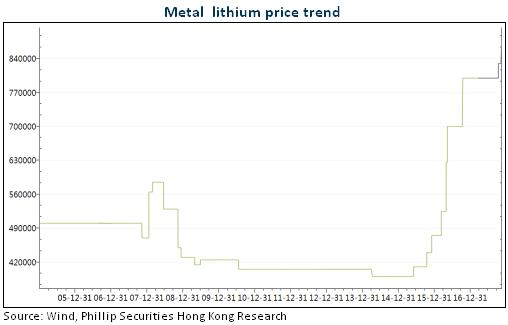 Lithium carbonate is the basic material for power battery production for new energy vehicles. Driven by the production and marketing boom of new energy vehicles, the demand of lithium carbonate keeps increasing. Consequently, the tension between supply and demand leads to higher price, price of lithium carbonate before 2015 rose from about RMB40,000 before beginning of 2015 to 120,000 at the end of 2015, it even up to highest RMB170,000 in H1 of 2016. Moreover, the long-term plans of new energy vehicles industry released by various countries bring huge market opportunities and vast developmental prospects of important materials for power batteries like lithium carbonate and lithium hydroxide.
Result Jumped Fivefold in 2016 and Maintained upward in the First Three Quarters of 2017 with the Growth of 30%
Benefiting from strong downstream demand, Tianqi Lithium's revenue doubled to RMB3.9 billion in 2016, with net profit attributable up 510% yoy to RMB1.512 billion, EPS RMB1.54 and DPS RMB0.18. Among them, the revenue of lithium salt products increased by 185% yoy to RMB2.825 billion and revenue from the lithium mineral business up 23% yoy to RMB1.06 billion. The rises on both quantity & price and enlarged proportion of lithium salt products are strong driving forces of result growth of the company. The gross margin of lithium salt business jumped by 37 percentage points to 74.4% and the proportion of revenue rose to 72%. While the gross margin of lithium mineral business also increased by 5.8 percentage points yoy to 62.2 %. The overall gross margin jumped by 24 percentage points to 71%, while the ROEWA climbed to 39.4%, up 31 percentage points yoy.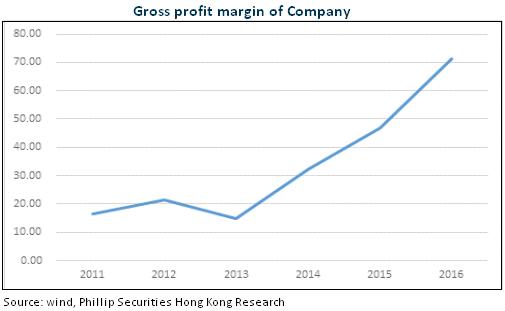 The result of the company still kept the trend of growth. Total revenue of the first three quarters of 2017 was RMB3.96 billion, up 43% yoy, with net income attributable of RMB1.52 billion, up 26% yoy, and EPS RMB1.54. The profit in the first three quarters has tied all the profit of last year. Meanwhile, the company expects an annual net profit of RMB2.06-2.26 billion in 2017, equivalent to up 36%- 49% yoy. As the slight increase in cost of lithium mineral and slight fall on market price of lithium salt compared to the same period last year, the overall gross margin of the company decreased by 1.6 percentage points to 69.8%. However, the market price of lithium salt is improving quarter by quarter. The market price of battery-grade lithium carbonate averaged RMB131,000, RMB134,000 and RMB154,000 in the first, second and third quarter, respectively, and it has risen to RMB170,000 since October, which is expected to be reflected in the result in the fourth quarter.
Capacity Expands Again and Results are Expected to Skyrocket
Tianqi Lithium takes the trends in new energy vehicle industry to further expand its capacity by adhering to its strategic planning of Consolidating Upstream, Strengthening Midstream and Penetrating Downstream. The company recently announced plans to fundraise RBM1.65 billion through share allotment to purchase the 2.4 ton-level lithium hydroxide production line, which has now started in Western Australia and is estimated to be completed by the end of 2018. The line, located just 250 kilometers away from Greenbushes Mine, will sharply reduce the transportation cost of lithium. At the same time, the feasibility study on the production line of 240,000 tons of lithium hydroxide in Western Australia Phase Two is officially launched, and the project is estimated to be completed by the end of 2019. Meanwhile, the domestic production line of 20,000 tons of lithium carbonate in Shehong is also under construction. It is forecasted that by 2020 Tianqi Lithium will reach a production capacity of over 100,000 tons of lithium salt, three times of current capacity.
Risk
New business progress slower than expected
Lithium series Product price falling
Financials