Investment Summary
In 2018H1, Dongfeng reported a basically unchanged revenue, with better-than-expected EPS of RMB0.9364, representing a yoy increase of 14.9%. Sales expenses and financial costs decreased due to the lower advertising fee and exchange profit respectively. We expect Dongfeng Honda is recovering gradually in H2 and DFNissan's capacity expansion planning is also about to be put on the agenda. Overall, we expect the Company's result will maintain steady. In accordance with the latest data, we adjust the company's EPS forecast, and target price to HK$10.6. The "Buy" rating is given. (Closing price as at 19 Sep 2018)
Interim result rose by 15%
In 2018H1, Dongfeng reported a basically unchanged revenue, reaching around RMB57,922 million with a slight increase of 0.3% over the previous year. The profit attributable to shareholders recorded approximately RMB8,068 million, up about 14.9% yoy; EPS was RMB0.9364, representing a yoy increase of 14.9%. The integrated gross margin was about 13.9%, a slight increase of 0.3 ppts from about 13.6% in 2017H1. With better-than-expected results, the Company continued to distribute a steady interim dividend: 10 cents per share.
Sedan stopped declining, and SUV/Truck witnessed narrowing growth
In 2018H1, the Company accumulated the vehicle sales of about 1,510,100 units, up about 2.6% yoy, and its market share was about 10.7%, down 0.3 ppts yoy. Among them, 1,278,700 passenger vehicles were sold, up 2.3% yoy; the yoy growth rate of sedan stopped decline and turned positive for the previous 3 years; MPV ended the decline for 4 years and was basically flat yoy; growth rate of the SUV continued to narrow to 1.3%. The sales volume of commercial vehicles was about 231,400 units, up 4.5% yoy, mainly dragged down by a sharp tumble in the sales volume of passenger vehicles; growth of sales of truck shrank to 7% from 31% in the same period last year.
Many factors drove better-than-expected results
Dominant factors that led to the better-than-expected result included:
1) Sales expenses decreased by 22.6% or RMB830 million yoy, largely due to a decline in the advertising expenses of the brand of DPCA in H1; 2) financial costs dropped by RMB466 million to just RMB1 million yoy due to exchange gains; 3) the profit share from associated enterprises gained RMB530 million or 43.6% yoy; 4) the rise in interest income led to an increase of RMB210 million or 20% in other operating income.
These positive effects were offset partly by the following factors:
1) Other expenses increased by 544 million of more R&D expenditures and 100 million of assets impairment; 2) tax revenue expenditure climbed by RMB420 million resulting from a rise of 3.5 ppts in effective tax rate.
Commercial vehicles suffered from significant impairment, and passenger vehicles performed brilliantly
By segment, the slight rise (+4.9%) in revenue of the commercial vehicle segment and the rapid growth (+29%) of auto finance segment made up for the decline (-6.4%) in the revenue of passenger segment. From the perspective of segments` profit contribution, the commercial vehicle business dragged down its contributive profit due to joint ventures` provision for impairment of RMB1 billion; the contributive profit of passenger vehicle jumped by 28%, accounting for nearly 90% of the profit before tax.
The joint ventures were mixed up, basically staying flat overall
As a result of mixed performance of joint-venture brands, the profit share from joint ventures basically stayed flat overall, reaching about RMB6,088 million, decreasing by about RMB13 million from around RMB6,101 million in the same period last year. It was primarily due to the facts that:
1) The sales volume of Dongfeng Motor Corporation increased by 13.5% yoy, the competitiveness of X-TRAIL, TEANA and QASHQAI of high-end models improved with selling price remaining steady, and the new model business policy contracted appropriately, resulting in a yoy rise in investment income;
2) The sales volume of Dongfeng Renault basically remained unchanged compared with the same period;
3) The investment income from DFPSA upped by about RMB185 million yoy, largely owing to the growth of new models C5 AIRCROSS and Peugeot 5008 compared with the corresponding period;
4) Affected by the recall issues, the sales volume of Dongfeng Honda dropped by 4.1% yoy, and the profit also decreased yoy.
5) Dongfeng Special Vehicle Co., Ltd. drew about RMB1 billion assets impairment for the new energy vehicle business.
Investment Thesis
The Company's self-owned brands will launch two/three new models in this H2/2019, respectively. The EV version of DFNissan Sylphy and the upgrading of TEANA will be launched in October and December, respectively, and at least two new models will be launched in 2019. In addition, DFNissan's capacity expansion planning is also about to be put on the agenda. The sales volume of Dongfeng Honda is recovering gradually, and the sales volume of CRV returned to 10,000 units in July and reached 12,000 units in August; C4 AIRCROSS of DFPSA will be launched in September, and the brand-new 408 and EH55 will be launched as well. Overall, we expect the Company's result will maintain steady.
In accordance with the latest data, we adjust the company's EPS forecast, and target price to HK$10.6, equivalent to 5.2/5.3x P/E ratio in 2018/2019. The "Buy" rating is given.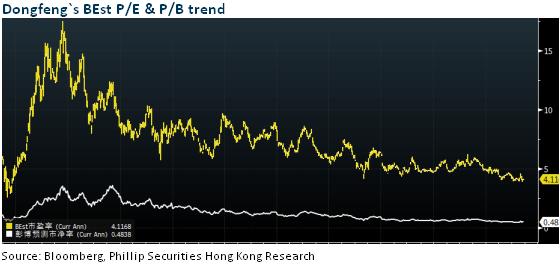 Financials