Investment Summary
We highlight that 1)1Q18 operation results beat our expectation while 2Q18 growth may slow down given higher base; 2) FILA biz focuses on expanding store coverage, launching new sub-brand catering for younger generation and improving portfolio mix; 3) For new brands, the company continues to adjust store structure and expect the loss to narrow down looking forward. We increase EPS estimates thus raise target price to HKD47.3, even given a lower target PE 23.3x (roughly par to 2-y historical average minus 0.5x SD) vs. previous 26x to factor into recent market volatility. (Closing price at 13 July 2018)
Business Overview
18Q1 results beat expectation. Anta biz realized +20%~25% YoY growth while non-Anta biz achieve +80%~85% growth, which is attributable to the fast development of FILA and Anta kids as well as relatively lower base in 17Q1. Mgt commented that the current inventory level is healthy but flagged 2Q18 growth may be lower than 1Q18.
FILA biz continues to serve as a key driver. FILA now makes up 25% of total revenue and maintain higher than 80% growth rate. We highlight FILA's great momentum at least in short term considering 1) The improving store coverage and penetration (FY17 1086 stores; FY18E 1300-1400 stores). 2) To cater for current fashion trend, the company launches FILA Fusion (a sub-brand of FILA) which targets from teens to 30s. FILA Fusion is expected to grasp more young customers and cultivate new drivers for FILA. 3) Continuously improving portfolio mix. Now majority of FILA products is apparel while more footwear will be added to improve product structure.
New brands. The company closes down inefficient stores and continues to adjust store network for relatively new brands (Descente, Kolon, Kingcow and Sprandi), with potential loss of RMB10mn/40mn/20mn/5mn for FY18E. Mgt highlights that Descente is likely to realize breakeven in FY19E. These new brands are expected to improve earnings quality through continuous brand cultivation and store adjustment.
Rising A&P expenses. It is due to amortization of COC sponsorship (started from 17Q4), which will drive selling expenses ratio to pick up in FY18E. Meanwhile, the company will increase advertising investment to new brands.
E-commerce. Mgt cautioned that online promotion events did not contribute much to sales. We expect 2H18 online promotion activities will help more to boost sales. The company indicates that as up to FY22E, the percentage of e-commerce sales in topline is expected to reach 20%.

Valuation
We increase target price to HKD47.3. Anta maintains CAGR guidance for future three years of 15%~20% (mid-teens for Anta while above 30% for FILA). We notice that A&H peers` expected PE is around 17x. Considering Anta's excellent operation efficiency and multi-brand advantage, some premium should be added to its valuation. We give target PE of 23.3x (roughly par to 2-y historical average minus 0.5x SD) to factor into recent intensifying market volatility (vs. previous target PE 26x). We increase topline and expenses estimation thus derive 18E/19E EPS of RMB1.47/1.84, thus we give 2019 target price HKD47.3. Risks include: Rising selling expenses and R&D costs; fierce competition in retail industry; operational inefficiency due to multiple brands. (Exchange rate=0.8575RMB/HKD) (Closing price at 13 July 2018)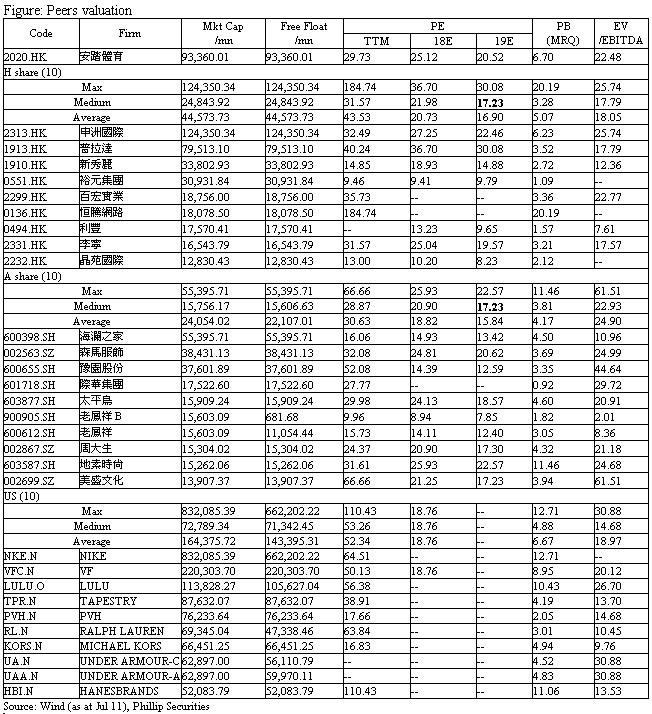 Financials