Investment Summary
The company's semi-annual performance exceeded expectations, with attributable profit increased by more than 670% yoy. Revenue from game business grew strongly, and loss of education business was reduced with the integration of Edmodo being promoted. We highlight that its long-term growth momentum remains unchanged. Game business grows steadily to provide cash flow for its development. Education business starts with educational hardware facilities, absorbs customers and improves customer stickiness, and monetizes by providing Internet value-added services (such as advertising, customized services, etc.). Although the policy prospect of the game licence is uncertain, side impact will not be permanent. For education segment, in 18Q4 new orders` launch will be slowed down due to off-season affect, and the integration progress of Edmodo is pending. We lowered the target price to HK$26 and suggested continuous attention. (Closing price at 14 Nov 2018)
Business Overview
18H1 results beat expectations. Netdragon (ND) realized revenue of RMB2,469.9mn, an increase of 39% yoy, mainly due to the significant growth of games and education business. Gross profit was RMB1,042mn, up by 35.7% yoy. We highlight that cost control was effective, given sales/ administrative/ R&D expenses accounted for a decrease of 3/2.8/4.4 percentage points. Profit attributable to shareholders rose by 678.8% to RMB200.7mn, thus we expect overall turnaround and positive results for 2018E.
Core game IP continues to contribute growth. In 18H1, game business generated revenue of RMB1,039.3mn up by 29.5% yoy, and realized core segmental profit of RMB524.4mn, an yoy increase of 57%. This is mainly due to the continuous contribution of core IP Eudemons, one of the most classic large-scale multi-player role-playing games in China. Up to now, Eudemons cumulatively achieved revenue of more than RMB10bn with over 20bn players. In first five months of 2018, its turnover has exceeded RMB100mn. Another major IP Heroes Evolved, the second largest online tactical competitive game in PRC, has more than 150mn registered users and over 4 million MAU. We expect the game business to maintain steady growth in future.
Education segment loss narrowing down. In 18H1, education business made RMB1,384.1mn in revenue, up by 48.2% yoy, and core segmental losses narrowed by 16.2% to RMB158.7mn. On overseas business, the company acquired an overseas education website Edmodo in first half, which is expected to escalate user traffic. At present, ND is striving to integrate Edmodo with other platforms, through unify user base in order to improve user access to each platform. In terms of domestic business, user base continued to grow, given from August to October the number of users increased by about 1 million. ND entered Tibet market in second half and quickly covered teacher users.
Investment Thesis & Valuation
We adjusted target price to HK$26. (1) Game business: Chinese government has suspended the approval of new game launch, making online games unable to be commercialized, causing market concern about total game section. We believe that the side impact is temporary, and expects the government to restart approval next year. The valuation of game stocks will hopefully recover by that time, which is expected to have a positive impact on ND stock price. (2) Education segment: Current income mainly comes from overseas education business. Since the fourth quarter is usually off-season of education business, income growth may slow down. In addition, the integration progress of Edmodo still takes time. Considering exchange rate fluctuations this year, the company will have a certain exchange loss. Thus we downgrade the EPS expectation to RMB0.44/0.85 in 18E/19E, lower the target price to HK$26.0 and maintain BUY rating.
Risks
Edmodo integration progresses slowly;
Overseas bid failure;
Game revenue growth slows down;
Police risk of game industry .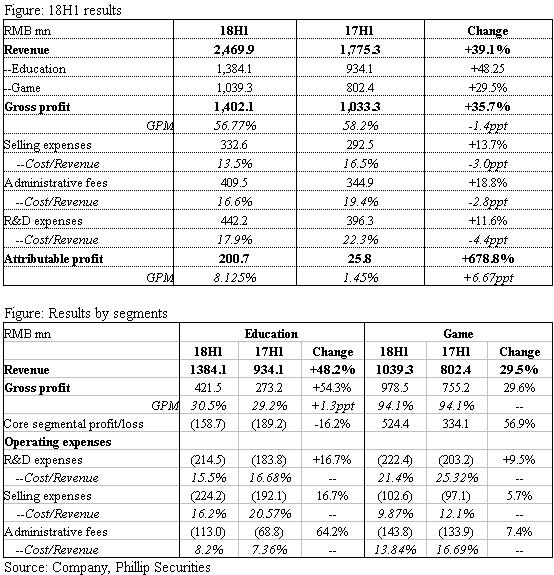 Company Profile
NetDragon (ND), established in 1999 and headquartered in Fuzhou China, is a global leading creator of online community. In 2001 NetDragon published 17173.com, China's top online game portal, which was sold to Sohu two years later for USD20.5mn. In 2013 NetDragon transferred its self-developed and popular smart phone service platform 91 Wireless to Baidu with a consideration of USD1.9bn, which prepared amplified cash capital for education business development. Recent years, the company focus gradually shifts from game industry to education sector. In 2015, the company acquired Promethean, the famous education hardware manufacturer, to take first steps towards global education market; for China market, the company established a wholly-owned subsidiary Huayu (Elernity) aiming to build the largest and the most complete service platform system for education market by growing hardware, software, platform and resources. At the same time, the company proactively explores VR/AR field and tries to commercialize the technology in areas involving game, education and household, and invested in two AR technology firms in 2016.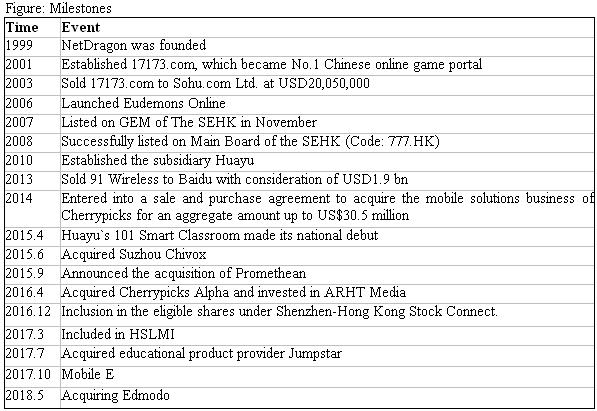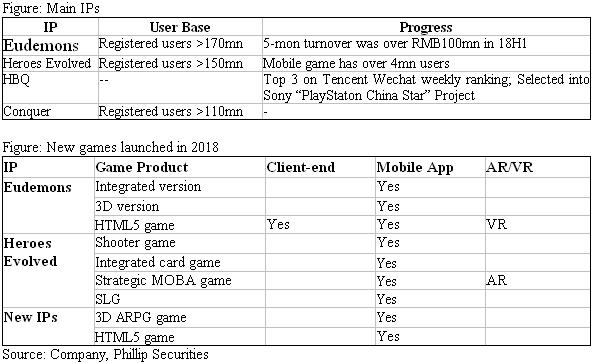 Financials