Investment Summary
Perfect World engaged in Film and TV series creation as well as Gaming development in China, together with strong game development and film production capabilities. Assuming a target P/E of 23x in 2019, we maintain a "Accumulate" rating and derive a target price of $37.67, 20.8% higher than previous TP, with a potential upside of 11.2%. (Closing price at 13 March 2019)
Annual result update
The Group has released its annual result briefing on 28 Feb. During the period, the revenue was RMB 8.04 billion, just up by 1.34% YoY, while the operating profit reached RMB 1.84 billion, increased by 15.9%. As for gaming segment, the performance of PC and mobile games remained stable, such as "Zhu Xian", "Perfect World (Int`l)", and "Zhu Xian mobile". Besides, there are many new games coming up, for example "YunMeng Four Time Song", "Meng Jian Ji Tian e Zuo", New Laughing in the Wind" and "ReEvolve". "YunMeng Four Time Song", "Meng Jian Ji Tian e Zuo", New Laughing in the Wind" are now having their internal testing. As for TV series segment, the Group has released TV series and web series, like "Blade Attacking", "The Flame's Daughter", "Suddenly This Summer", "The Way We Were", and "Perfect Youth". In addition, there are series almost finished or finished, such as "青春鬥", "不婚女王", "鱷魚與牙籤鳥", "霍元甲", "義無反顧" and "半生緣". As for film segment, the Group has released the web film "The Ferry Man" and "Shadow" directed by Zhang Yimou. Moreover, the strategical cooperation with Universal Pictures will continue.
Business update
"Perfect World Mobile", the latest game of the Group, have been granted the gaming licence in the forth round and have been launched on 6 Mar. The publisher is Tencent Holdings (700.HK). It was created based on the classic PC game "Perfect World" and transfer into mobile version in order to arouse the reminiscence for gamers. "Perfect" recreated the features in the PC version, which are flying, aerial fighting and aerial mission. Moreover, the games has adopted a seamless map model from the PC version. It makes the game do not need any loading when shifting its map, very different from the games in the market now, leading to a smoother gaming experience. After the launch, the game was ranked the first in the free games, and beat "Arena of Valor" on 9 March and ranked the top in Top Grossing. As of 12 Mar, the cumulative downloads reached 3.2 million.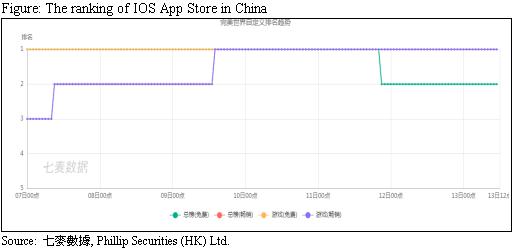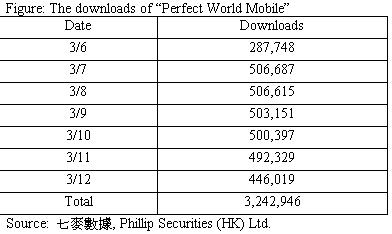 Valuation
Although the revenue growth was lower than expected due to the policies in the gaming industry, we believe the Group will regain its growth thanks to the more positive industry environment and its latest mobile game. Assuming a target P/E of 23x in 2019, we maintain a "Accumulate" rating and derive a target price of $37.67, 20.8% higher than previous TP, with a potential upside of 11.2%.
Risk
1. Lower-than-expected growth in Mobile gaming
2. Giant entering the film & drama production
3. Loss in production team
Financials