Summary of Investment
- With the booming environmental sanitation market, growth matched the expectation;
- Completion of private placement marked the beginning of a new development stage;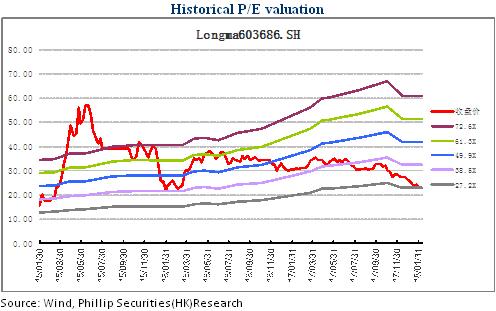 Investment Rating
As there are optimistic expectations about the company's competitive edge in the field of "equipment+services" and result growth, the net profit attributable to the parent company in 2017 and 2018 is expected to reached RMB268/355mn, with EPS of 0.9/1.19 , respectively, equivalent to 26/19.6times of the PE. Hence, it is rated as "Buy". (Closing price as at 13 Feb 2018)
A leader in environmental sanitation equipment and service
Fujian Longma Environmental Sanitation Equipment Co., Ltd. concentrates on sanitation and cleaning equipment, waste collecting equipment, and sanitation equipment consuming new energy and clean energy. Since implementation of the strategy on integrated development of sanitation equipment manufacturing and sanitation services in 2015, its sanitation service business has started to make contribution to revenue. Achieving considerable growth in 2016, the sanitation service business contributed over 20% to the company's total revenue in the first half of 2017. Being one of the top 3 in the field of sanitation equipment, the company sold 4,205 units of sanitation equipment in the H1 of 2017, up by 25% yoy, with the market share of 6.4%. Notably, the market share of some high-end products reached 13.3%.
Result growth matched the expectation
According to the company's result forecast, its revenue of 2017 is expected to be between RMB2.99 billion and RMB3.22 billion, up by 35%-45% yoy. Its net profit attributable to the parent company is expected to be between RMB253 million and RMB274 million, up by 20%-30% yoy and 23%-33% yoy after deduction of non-recurring profit, equivalent to the EPS of RMB0.85 to RMB0.92. Such result growth conforms to our expectation. Thanks to implementation of the integrated development strategy, and driven and supported by its service business and manufacturing, both the company's production and sales of sanitation equipment expanded, and the sanitation service order and value of contracts continued to increase. With further expansion of market layout, revenue of the two business reached a new high.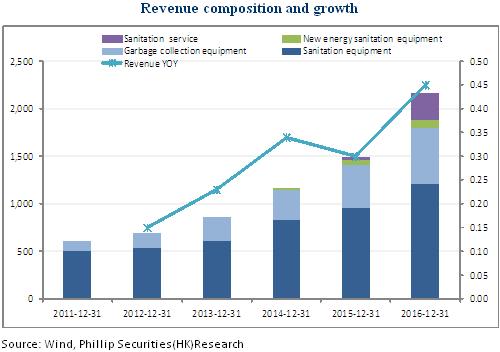 Completion of private placement marked the beginning of a new development stage
In December 2017, the company completed the private placement at RMB27.11/share (which spills by 20.5% compared with current price) for 2,6920,000 shares, raising RMB729 million to fund its sanitation equipment comprehensive specification service projects, sanitation service research and training base projects and marketing network construction project. Through this fundraising, the company has gained more operational funds, successfully expanded its assets and business scale, and introduced investment of some state-owned enterprises such as Shandong Hi-speed Group Co., Ltd., which is expected to facilitate further expansion of its business scope and model.
Policies have helped expansion of sanitation projects
After the third quarter, the company won the tender of Gong`an County's urban and rural sanitation integration PPP project, with an annual contract value of RMB18,411,800, and total contract value of RMB368 million. It also won the tender of the project of integrated construction of Le`an County's urban and rural household waste disposal, with an annual contract value of RMB34.01 million, and total contract value of RMB510 million. At present, value of contracts the company has won amounts to RMB11.2 billion. On February 5, the Three-Year Action Plan on Improving Rural Living Environments was announced, in which goals of improving rural environments are laid out. The government aims to significantly improve rural living environments by 2020 by placing emphasis on addressing the issues like disposal of rural household waste, toilet reconstruction and sewage treatment. We believe that continuous promotion of the policies will accelerate the process of shifting the focus on environmental governance from cities to rural areas, and help unlock rural sanitation market potential.
Risk Warnings
Competition of the equipment market becomes increasingly fierce;
Expansion of service projects falls short of the expectation;
Policy risk;
Financials