Investment Summary
2017 Finale of "Steady Growth"
The trend of better product structure of JV is prominent
SAIC's self-brands still saw robust growth
Investment Thesis
We hold that driven by new product cycle and improving product structure, the company's better-than-expected growth is worth looking forward to. A relatively high cash dividend rate is expected to continue with its abundant cash flow. We adjust the profit forecast, giving the target price of RMB38.24, equivalent to 12.3/10.8x estimated P/E ratios in 2017/2018. The "Accumulate" rating is given. (Closing price as at 14 Feb 2018)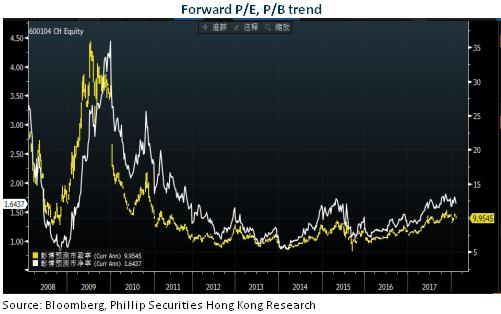 2017 Finale of "Steady Growth"
According to SAIC's financial results forecast, in 2017, the Group reported net profit attributable to parent company of RMB34.2 billion, a yoy increase of RMB2.2 billion, or a yoy growth of 7%. After deducting the non-recurrent profit and loss of RMB32.7 billion, the yoy increase is 7.8%. In 2017 SAIC achieved sales of 6.93 million units, a yoy increase of 6.9%. The target set at the beginning of the year has been roughly fulfilled. The sales growth is above the industry average by 5.5 percentage points, showing a strong growth momentum. The profit growth is higher than sales growth, reflecting that the company's profitability has seen improvement.
The trend of better product structure of JV is prominent
The group's joint-venture brands showed different sales performance. SAIC Volkswagen achieved sales of 2.063 million units, a yoy increase of 3.06%. SAIC GM achieved a yoy growth of 5.99% to 2 million units. SGM-Wuling achieved sales growth of 0.93% to 2.15 million units. The group has 3 and 4 models, respectively, that are ranked among the top-10 best-selling sedans and SUVs. And 3 MPV models occupied the top three of the year's best-selling MPV.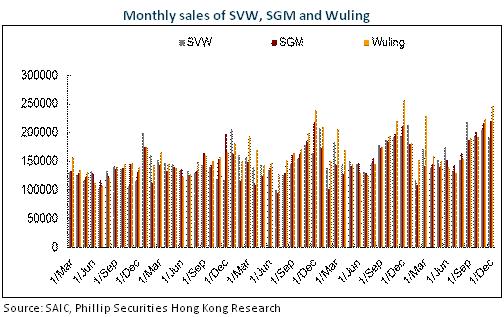 SAIC GM brand structure upgrade trend is significant. First of all, high-end MPV dividend has continued, GL8's yoy growth increased by 82% to 145,000 units. The new model GL6 has lived up to the public's expectation, whose sales volume has been climbing up quickly. Second, the high-end brands Cadillac (+56% yoy) and Chevrolet Malibu (+45% yoy) also have dazzling growth rates. Middle to high-end models such as Buick Lacrosse, Regal and Chevrolet Malibu reached total sales of 287,000 units, a yoy increase of 23%. The Group's middle and high-end car market share witnessed rapid growth to nearly 20%, further consolidating the leading position in the segment of high-end passenger cars. 2018 SAIC GM will embrace a new generation of Buick Excelle. And Cadillac XT3, a small SUV benchmarking the Audi Q3 will be launched.
SAIC Volkswagen's models are structurally moving upward, with SUV models percentage up from 14.5% in 2016 to 23.8% in 2017. And disadvantages in the SUV market have been removed. The medium to large SUV market has been covered with relevant models. In 2017 SAIC Volkswagen launched three high-end SUVs: Tiguan L, Teramount, Kodiaq, whose average prices are all over RMB200,000. Average monthly sales volume of Tiguan L exceeded 18,000 units and hit 20,000 units in Q4; Average monthly sales volume of Teramount exceeded 6,000 units and 10,000 units at year end. Average monthly sales volume of Kodiaq reached 5,000 units. This has fully realized the brand premium advantage of SAIC Volkswagen. We believe that in the future the company will continue to benefit from the SUV consumption upgrade trend. In 2018 SAIC Volkswagen will launch T-Roc, an entry-level compact SUV model and work on Passat's version change. Skoda will also launch two small SUVs (KAROC and Model Q).
With model 560 and 730's sales volume decline and their replacements model 510 and 310's under-performance, SGM-Wuling's sales volume basically remained unchanged, reflecting the increasing competition in the compact SUV and micro-vehicle market. And we expect in the future SGM-Wuling will attract target customers by upgrading the product line.
SAIC's self-brands still saw robust growth
The sales volume of SAIC's self- brand passenger car increased by 62.3% yoy to 522,000 units; of which the sales volume of SUV increased by 152.6% yoy to356,000 units, accounting for 3.45% of the total SUV market share, which increased by 1.9 ppts yoy. The strong sales momentum mainly comes from Roewe RX5, whose accumulative sales increased by 163.9% yoy to 237,600 units. New models such as Roewe i6 and MG ZS also had eye-catching sales results. In 2018 SAIC will continue to expand the SUV product line of passenger car, in addition to the new models including RX3 and MG 6 introduced to the market in the second half of the 2017, SAIC will also launch a large 7-seater SUV model.
The new energy model for SAIC self- brand passenger car doubled in sales volume in 2017,44,000 units in total. In the future, in addition to the new energy version of the existing models, the Roewe "Vision-E" new energy vehicle will be introduced in the middle of the year, with maximum range of more than 400km per charge and 0-100KM acceleration time of mere 4.5 seconds. Vision-E will be installed with HUD, wireless charging, intelligent driving and other high-tech configurations. We expect brilliant performance of it. To sum up, it is our forecast that SAIC passenger cars will maintain a higher-than-industry sales volume growth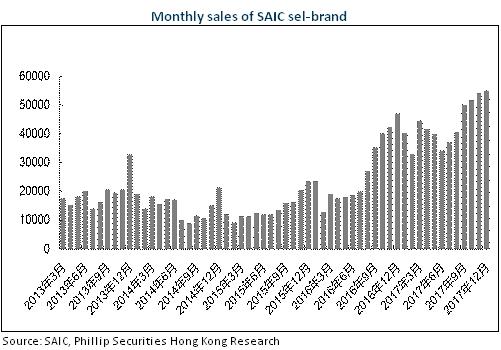 Financials