Investment Summary
HASCO is the pioneer of China's auto component industry. We believe that to attract customers, auto manufacturers will tend to apply more high-end and high-technology auto parts and components in their automobiles. This trend will certainly benefit top-tier auto parts manufacturers such as HASCO. The company also actively grasps the trend of electric vehicle, network connection, intelligence and sharing of the automotive industry. We reaffirm "accumulate" rating.
Q3 Results Basically Stay Flat
According to HASCO's report of the first three quarters in 2018, the Company recorded a revenue of RMB3,717,2 million in the third quarter, up by 5.15% Y-o-Y; a net profit attributable to parent company of RMB1.59 billion, up by 0.41% Y-o-Y; a gross margin of 14.32%, up by 0.61 ppts; a net profit margin of 5.61%, down by 0.74 ppts Y-o-Y. In the first three quarters, the Company recorded a revenue of RMB11,879,9 million, up by 14.51% Y-o-Y, a net profit attributable to parent company of RMB636,4 million, up by 32.13% Y-o-Y; a gross margin of 13.83%, down by 0.21 ppts Y-o-Y; a net profit margin of 6.97%, up by 0.39 ppts Y-o-Y.
Inclusion of One-time Income in H1 and Downturn of Q3 Downstream Prosperity Lead to the Slowdown in the Growth
The net profit attributable to parent company in H1 surged by 47.67% Y-o-Y, which was mainly the result of the acquisition of Koito Automotive Lamp Co., Ltd. (now renamed Huayu Vision). Meanwhile, one-time premium investment incomes of RMB920 million were recognized whereas there was no such factor in the third quarter. In addition, the slowdown in the growth rate of the results in the third quarter was also dragged by the downturn of the downstream prosperity. The Y-o-Y growth of sales volume of major customers of the Company in the third quarter, including SAIC Volkswagen and SAIC-GM both slipped from the positive to the negative column, the autonomous volume of SAIC Volkswagen is small, and the Y-o-Y growth rate has narrowed from 50% in the first half to18%.
Gross Margin Has Improved and Administration Expenses Increase Significantly
The gross margin of the first three quarters in 2018 showed a trend of improvement quarter by quarter, which were 13.1%, 14.1% and 14.3%, respectively, up by -1.61, 0.37 and 0.61 ppts Y-o-Y. The improvement of gross margin was mainly from merging the headlight business with high gross margin in Huayu Vision.
The administration expenses of the Company in Q2 and Q3 increased significantly with an administration expenses ratio of 8.18% and 9.26%, respectively, up by 0.16 and 1.5 ppts, respectively. It is expected to mainly come from the integration cost of merging Huayu Vision. The Company's operating cash flow in Q3 was RMB1.1 billion, down by 66.4% Y-o-Y, and it is expected to be mainly related to some downstream OEM manufacturers` elongating the payment settlement cycle.
Business Integration and Upgrading Keep Going Ahead
Recently, HASCO announced that it intended to purchase 50% of Shanghai SACHS Powertrain Component Systems Co., Ltd. from ZF China for RMB65.16 million. Meanwhile, the Company intended to sell its 50% stake in Shanghai TRW Automotive Safety Systems Co., Ltd. to TRW Asia Pacific for RMB80.71 million. This transaction will help support and drive SACHS Powertain's autonomous development in the drive module business. While maintaining the domestic vehicle matching and after-sales market competitive advantage of the existing clutch business, SACHS Powertrain will, according to the development trend of automotive parts industry in the future, actively develop the independent R&D of products, such as CVT, TC, DMF and hybrid modules, and strive to become a supplier of key parts (modules) of power train modules to meet the requirements of energy saving and emission reduction of vehicles and electrification. In our opinion, in the context of intellectualization/new energy and consumption upgrading, the Company's products are expected to benefit from the rising trend of price and quantity of high value-added products in the future.
Investment Thesis
As analyzed above, we revised EPS expectation of the Company to RMB 2.51 and 2.52 of 2018/2019. And we accordingly gave the target price to 23, respectively 9.2/9.1x P/E for 2018/2019. "Accumulate" rating. (Closing price as at 15 Feb 2019)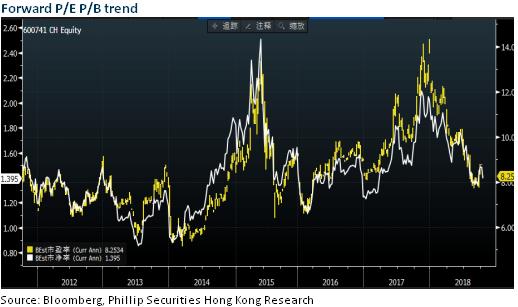 Financials