Steady Development of Business and Considerable Growth of Performance
Longma Environmental Sanitation Equipment Co., Ltd is a professional supplier of sanitation equipment and service. The company has maintained compound annual growth rates of 20-25% for the last few years. In 2016 it recorded a revenue of RMB2.218 billion, increasing by 44.8% year-on-year. Its net profit attributable to shareholders of parent company amounted to RMB211 million, up by 40.2% year-on-year, and the basic EPS was RMB79 (+31.67%), with the performance expected to grow. The company also maintained broadly steady profitability, with a gross profit margin of 30.88% (-0.32%) and a net profit margin of 9.82% (-0.15%) in 2016. With the run-in period coming to an end, the overall profitability of the company will be further promoted. The first quarter of 2017 saw a strong continued growth of the company's performance. It recorded a revenue of RMB666 billion, increasing by 51.1% year-on-year, and its net profit attributable to shareholders of parent company reached RMB64,466,600, up by nearly 30% year-on-year. The annual growth of performance in 2017 is expected to exceed expectations.
Substantial Room for Further Improvement in Sanitation Equipment
The major business of Longma is the manufacturing of sanitation equipment, which contributed an income of RMB1.875 billion in 2016, up by 29% year-on-year and accounting for 86.6% of the total, with a slight increase in gross profit margin to 31.8%. (1) The sanitation equipment industry resumed a rapid growth, with an increased proportion of medium- and high-end products. In 2016 the sanitation equipment manufacturing industry saw a reverse in the downturn, with the production of 86.7 thousand sanitation vehicles, up by 30.56% year-on-year. In particular, the proportion of medium- and high-end products rose to 40.67%, up by 3.47 ppts over 2015. Longma is positioned to produce medium- and high-end products. The company's market share reached 14.88% in the medium- and high-end markets in 2016, and the company is expected to benefit from the reorientation of the sanitation equipment market towards a higher end. (2) There is a large room for improvement in the mechanization of sanitation equipment. The average sanitation mechanization cleaning rate of cities in China is approximately 60%, while that of the county is as low as 30%. There is a rather large room for improvement before the goal of all-rounded and fully-mechanized sanitation (80%) is reached. (3) The participants of sanitation equipment market usually have small scale and are decentralized. Currently, there are only three companies that produce more than 6000 sanitation vehicles/suits every year. Longma produced 8,544 sanitation vehicles/suits in 2016, increasing by 38.69% year-on-year, with the market share rising to 7.35% compared to 6.83% in 2015. The company continues to consolidate its leading position in the industry.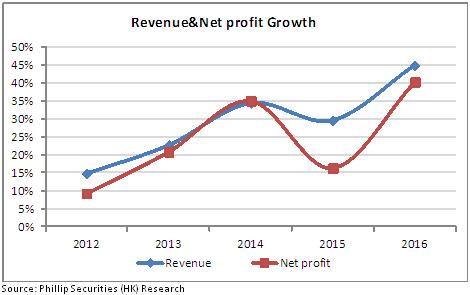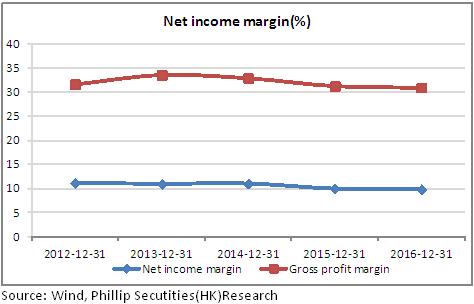 Blue Ocean Market of Sanitation Service Market with a Promising Prospect
Sanitation service is the second major business of Longma, which has developed considerably since the company established its co-developing strategy of "sanitation equipment manufacturing + sanitation service" in 2015. The business recorded a revenue of RMB292 million in 2016, up by 704% year-on-year, occupying a higher proportion of 13.4% in the total revenue, and the net profit margin was 25.77%. It is growing to become a significant source of the company's profit. (1) Currently, public service in the city has entered the development stage of marketization. Government's financial funds are tight, which promotes the marketization of sanitation service. Policies and market environment provide the industry of sanitation with a great opportunity. A market with the scale of more than RMB1 billion has been opened, and rapid growth is sure to be expected. (2) Small and decentralized, the current market of sanitation service needs to be integrated. The new sanitation service contracts nationwide in 2016 amounted to RMB86.1 billion. And there were only three companies with new contracts that were worth more than RMB5 billion, among which Longma ranked the third. In addition, Longma is accelerating the duplication of its successful projects in various locations. It has won the bid for the sanitation projects in Haikou, Shenyang, Nanchang, Fuzhou, etc., among which the project in Haikou and Shenyang are of great exemplary significance as well as brand value. We believe that under such conditions as sanitation + PPP, with the company accelerating its expansion to other parts of the country, Longma holds great first-mover advantages, and is expected to increase its market share continuously due to the forthcoming integration of the industry.
Valuation and Rating
1) Regarding the business of sanitation equipment, Longma has an edge over its competitors, and the company is expected to grow steadily due to the overall improvement of sanitation equipment. 2) There is a blue ocean market for sanitation service, where Longma holds great first-mover advantages, and its future growth is highly resilient. Therefore, it is expected that the company will record a revenue of RMB 3,139 million and RMB 4,206 million, net profit of RMB 281 million and RMB 390 million, EPS of RMB1.03 and RMB1.44 in 2017 and 2018, respectively. Based on the information, the target price of RMB 41.2 is given, and the company is rated Accumulate. (Closing price as at 4 July 2017)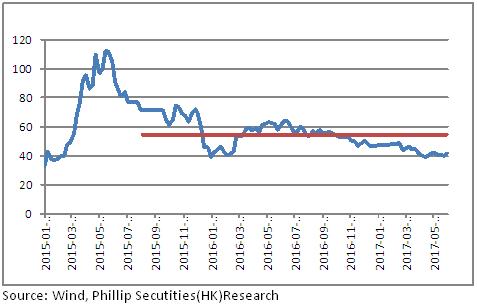 Risk Warnings
The marketization of sanitation falls short of expectations;
Project expansion falls short of expectations;
Market competition has increased.
Financials