Investment Summary
-Turing from loss to profit in FY18;
-E-commerce: self-operated business and Tmall platform growing fast;
-Internet healthcare: building Internet hospitals relying on online and offline synergies;
-Medicine tracking: expected stable development with the implementation of regulatory requirements.
Business Overview
Milestones. In 2014, Ali Group acquired 54.3% stake of one HK listed company CITIC 21CN (241HK), then the listed company was renamed as "Ali Health". At first, the company was engaged in selling drugs to individual consumers through registered shops on Taobao platform, as well as acting for CFDA to operate drug electronic tracking system. In 2017, CFDA stopped Ali's drug tracking operation. Taking advantage of the rich experience and technical strength in drug tracking segment, Ali Health established a independent drug tracking platform. Also in 2017, the state suspended Ali Health's Class A certificate of online drug trading business (mainly offering distribution services for pharmaceutical companies), after which Ali Health acquired a platform with Class C certificate to provide OTC drugs to individual consumers. From 2017 Ali Health has started cooperation with regional healthcare institutions (i.e. hospitals, pharmacies, etc.) in provinces like Zhejiang, Shanghai and Yunnan, and continues to expand Internet healthcare business with focusing on three main lines, namely pharmaceutical e-commerce, Internet healthcare segment, and drug electronic tracking business.
Pharmaceutical e-commerce. This business mainly involves two models, namely, self-operated e-commerce and Tmall pharmacy platform, providing non-prescription drugs, medical instruments, and sexual health and family planning categories, etc. (1) Pharmaceutical self-operated business includes B2C and B2B segments. B2C pharmacy operates through two brands, "Ali Health Pharmacy" and "Ali Health Overseas Flagship Pharmacy", selling OTC drugs and imported health products. The B2B platform serves for pharmaceutical distributors in upstream, and in downstream caters to pharmacy chains and online supermarkets, etc. The average selling prices of medicines and health products sold through the online platform is generally 30%-50% cheaper than offline pharmacies. In the past six months, the number of active consumers exceeded 10 million, a year-on-year increase of more than 50%. In 2018, the company strategically invested in Anhui Huaren Health, Shandong Yuyu civilians, Guizhou Yishu and other regional leading chain pharmacies, to coordinate and empower these offline partners to achieve an omni-channel sales network. (2) Tmall Pharmacy platform is a third-party trading platform of drugs and medical services, obtaining service fees and advertising income as main profit sources. In recent six months, the platform achieved the gross merchandise volume (GMV) exceeding RMB 25 billion, a yoy increase of more than 50%, among which, the sales growth of medical instruments, and sexual health products is particularly rapid (+70% yoy). For latest 12 months, the amount of annual active consumers of Tmall Pharmacy platform has reached 100 million. In future, the platform will maintain rapid growth by enriching product portfolio.
Internet healthcare segment. The company has established cooperative relationships with many second- and third-class hospitals in Mainland China. Patients can use online platforms such as Ali Health or Alipay to register online, and consult medicine-taking problem, etc. As of September 2018, the number of licensed physicians, pharmacists and dietitians contracted with the company to provide online health counseling services, has totaled approximately 24,000. Leveraging on its technical advantages in artificial intelligence field, Ali Health releases the AI medical system "Doctor You", (which includes clinical diagnosis functions, medical auxiliary detection engine, physician ability training functions,) to assist doctors to diagnosis, help patients to purchase medicines online through electronic prescription, provide logistics distribution services, etc.
Medicine tracking business. Chinese government encourages third-party organizations to provide information-based tracking services to pharmaceutical firms. The company's predecessor, CITIC 21CN, was the exclusive operator of China's national electronic pharmaceutical regulatory platform and the gross profit margin of this business remained above 50%. In 2016, because some enterprises questioned that the national drug regulatory network should not be operated by the private enterprise, CFDA stopped its operation right of national regulatory platform. After that, relying on Ali Cloud's powerful computing capabilities, the company has established a third-party tracking platform (碼上放心), to process drug tracking and recalling, pipeline management, patient education, cold chain logistic and tracking management of vaccines, and so on. At present, the number of pharmaceutical manufacturers that have registered on the platform accounts for 80% of the total pharmaceutical manufacturers in China. Among them, the coverage ratio of national key medicine products like vaccines exceeds 95%. In the past six months, the platform delivered a revenue of RMB18.92 million, representing a yoy increase of 100.5%.
Turning losses into profit in FY18. For the latest six months, the company achieved operating income of RMB1878.7 million, a yoy increase of 111%. The loss during the period was RMB89.98 million, slightly decreasing by 2.4% yoy. However, the adjusted net profit (excluding share option expenses) reached RMB10.49 million, v.s. a loss of RMB34.4 million last year. This was mainly due to the rapid growth of e-commerce business, and the new profit contribution from the consumer healthcare business, as well as declining SG&A and research expenses. As the company will continue the investment in medical artificial intelligence, big data and Internet healthcare fields, it is expected that related costs will continue to grow.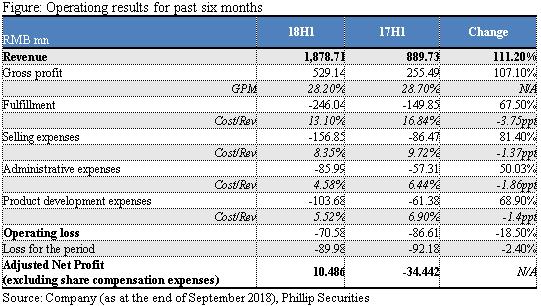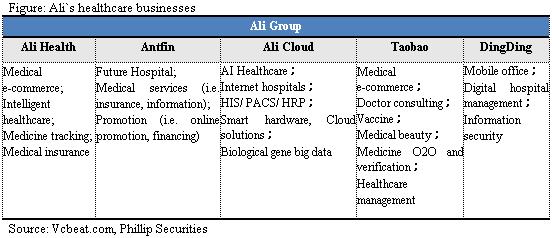 Financials