Investment Summary
Huazhong In-Vehicle is an international leader in the technology known as "replacing steel with plastics", enjoying good acceptance and firm relationship from the OEMs. With abundant orders at hand, accelerating SOP of new products and fading loss factors, we are optimistic about its high future result visibility. we give the company a target price of HK$1.56, equivalent to 13.8/10.6/8.1x P/E for 2018/2019/2020, respectively. Accumulate rating is given for initiation. (Closing price as at 15 August 2018)
Company Profile
As an integrated auto part supplier, Huazhong In-Vehicle Holdings Company Limited ("Huazhong In-Vehicle") mainly produces interior and exterior auto structures and decorative parts (bumpers; racks; dashboards; A, B, C, and D pillars; door sill plates, etc.), large- and medium-sized auto moulds, and shells/liquid receivers of air conditioners, as well as the production and sales of a small number of non-auto products, including office chair assembly/yacht engines and raw materials. The revenues of the above four segments accounted for 70%, 10%, 10%, and 10% among the total revenue in 2017, respectively. The Company is an international leader in the technology known as "replacing steel with plastics", with which automobiles can be lightened up as their weights can be reduced to only a quarter to one-eighth while maintaining hardness and safety.
The Company has 22 manufacturing bases across China, an R&D team of more than 200 experts and over 4000 staff members. In 2012, it was listed in Hong Kong, and acquired HZ FBZ, a mould factory whose customers included European Mercedes Benz, BMW and Audi.
Leading Technical Process and Steadily Increasing Gross Margin
The Company is an international leader in the technology known as "replacing steel with plastics", with which automobiles can be lightened up as their weights can be reduced to only a quarter to one-eighth while maintaining hardness. The company has the synchronous development ability to cooperate with the main engine factory, and can provide customers with molds and total assembly products through vertical integration. The overall degree of automation of the company's factory is high, and is more than 90%. The company has kept moving on and made great progress in improving production technology, upgrading equipment, optimizing product structure and strengthening quality management and control. Since listing, the gross margin has steadily increased from 20% in 2012 to 29% in 2017.
Steady Cooperative Relationship
The company has been in the automotive parts industry for more than 20 years. Its customers include FAW-Volkswagen, Shanghai General Motors (SGM), Chang`an Ford, Shanghai Volkswagen (SVW), Beijing Benz (BBAC), Volvo and other medium-high-end/luxury brand joint-venture automobile enterprises. Its business relationship with FAW-Volkswagen and SGM has been stable for more than 16 years. As the entry threshold of supply chain system of the joint-venture automobile factory is extremely high, we predict that the traditional business of the company will maintain a steady growth rate following the joint-venture enterprises.
In 2016, the company began to expand its customer base to the cutting-edge independent brands such as Geely Auto, SGMW, Trumpchi, etc. In 2017, the company developed new energy vehicles brand such as Weltmeister and Ai-ways. As new energy vehicles have a higher demand for lightweight body, we believe that the prosperity of new energy vehicles in the future will bring greater opportunities for the company's "replacing steel with plastics".
Abundant Orders at Hand
In the first half of 2018, the company signed new orders that are worth about RMB3 billion. At present, the company has a conservative estimate of RMB12-15 billion orders, which can be supplied to 2022. At present, the capacity utilization rate of the production line is abundant, which is over 85%. In order to meet the demand of new orders, the company is increasing the capacity of new production in recent years, including the Qingdao factory put into operation in April 2018, Tianjin factory put into operation in June, Wenzhou cooperative factory put into operation in August, Liuzhou factory which will be put into operation in October, and Jiangxi factory which will be put into operation in 2019. Two production lines will be added in Changsha factory in 2019.
Fading Loss Factors
After the company was listed in 2012, the company's performance was flat, mainly because 1) there were too many outsourcing orders of its overseas factory, which lowered the profitability; 2) the JV Changchun factory with 50% holdings continued to make loss, dragging down the performance. The company integrated overseas factory with domestic factories and R&D departments, transferring some orders to domestic production and reducing costs. Finally, overseas factory turned losses into profits in 2017. It is expected to be slightly profitable in 2018. Changchun JV factory has been making a loss contribution of RMB 10-20 million in recent years. The company replaced the JV partner in 2016/2017. It is expected to turn a loss into a profit in 2018.After the factory launching a new production line in 2019, the output value will rise from RMB 530 million now to RMB700-900 million in 2020 with attributable earning of about RMB 55 million.
Rapid Promotion of New Products and Continuously Increasing Profit Margin
The company continues to explore the layout of the lightweight products in the direction of "replacing steel with plastics". The front frame and bottom plate of new products have been recognized by many famous automobile enterprises in China. The products begin to enter the supply chain of some automobile enterprises such as SVW, FAW Volkswagen/Audi, Chang`an Ford, SGM, Geely, Denza, Trumpchi and Zotye.What's more, the 50% holding JV "Ningbo Roekona Zoeppritex"'s new factory Hualuote was officially put into operation in October 2017. It has a complete production line and manufacturing techniques covering knitting, weaving, dying, sorting and overlaying. All process/equipment/personnel training/environmental protection standards follow international leading standards to fill the domestic gap. The output value of the two domestic projects--sunshade which SOP in Oct 2018, belongs to the Nickie market, and expected to achieve RMB 500 million in 2020, with over 15% of the net profit rate.
Investment Thesis
We predict that the EPS of the company's share will reach RMB0.10/0.13/0.17 in 2018/2019/2020, respectively, increased by 28/31/32% YoY. At present, the estimated P/E ratio of Hong Kong auto parts stocks in 2018/2019 is about 10-14x/9-13x. Considering the foreseeable higher profit growth of Huazhong In-Vehicle Holdings in the next two or three years, we believe that the current its 12/9/7x P/E ratio in 2018/2019/2020 was slightly underestimated. Finally, we give the company a target price of HK$1.56, equivalent to 13.8/10.6/8.1x P/E for 2018/2019/2020, respectively. Accumulate rating is covered for the first time. (Closing price as at 15 August 2018)
Risk
The progress of the new project is later than expected.
The auto market is seriously retrogressing, affecting the demand for the company's products.
Customer acceptance of new products is weaker than expected.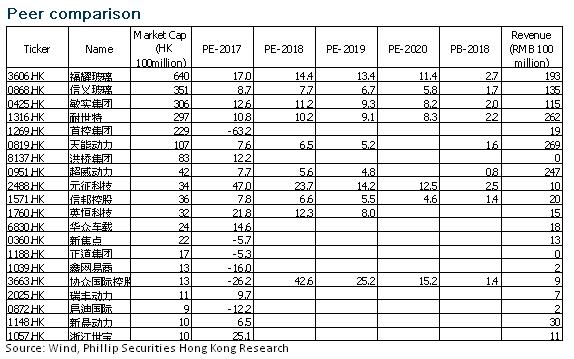 Financials