Investment Thesis
Given all mentioned conservative opinion on BAIC's self-owned brand, neutral view of Beijing Hyundai and optimistic expectation of Beijing Benz, we lower the profit forecast of the company in 2018/2019 to EPS of RMB 0.83 / 1.23. We will also revise target price to 9.3 HKD (9/6.1x for 2018/2019 P/E) and reaffirm accumulate rating. (Closing price as at 14 June 2018)
60% decline in 2017 while soar of 17.5% in Q1 2018
According to the result report of BAIC in Q1 2018, the company's revenue increased to RMB39.8 billion, up 9.3% yoy and its net profit attributable increased to RMB1,595 million, up 17.5% yoy, reporting a significant mom improvement from RMB284 million in Q4 2017. EPS was RMB0.21.
Looking back to 2017, with downturn of Beijing Hyundai and self-owned brands, the results of BAIC basically showed the trend of decline quarter by quarter and recorded quarterly net profit of RMB1,358 million, -RMB372 million, RMB983 million, and RMB284 million, respectively. Net profit in the year decreased to RMB2,253 million, down 65% yoy, with an EPS of RMB0.3, which was lower than expected and the main reasons were that losses of fair value of forex forward contracts were beyond expectations and revenue and investment income were lower than expected.
Beijing Benz maintained robust growth momentum
In 2017, Beijing Benz's gross profit contributions increased to approximately RMB38.2 billion, up 50% yoy, accounting for 146% of the overall gross profit, which was mainly due to the rises in both quantity and price driven by strong product cycle. Its sales volume increased to 422,558 units, up 33.3% yoy and the gross margin increased to 32.7%, up nearly 3ppts.
Since the beginning of 2018, the strong momentum of Beijing Benz has not diminished, with a total sales volume of nearly 127,000 units in Q1, representing a yoy increase of 16%. Specifically, Benz C-Class exceeded BMW 3 series and Audi A4, with a sales volume of 41,455 units in Q1, up 23% yoy and Benz E-Class increased to 37,577 units, up 41% yoy. In the first four months, except being outstripped by BMW in February, Benz topped in the domestic luxury car market in the other three months. In 2018, in terms of new models, Beijing Benz will launch GLC-L and mid-life cycle modified C-class sedan and put into production a new generation of 1.3T engine, and the domestic production of the new GLB SUV is also under implementation.
In the domain of new energy vehicles, Beijing Benz announced it will transform all its vehicle products to HEV or EV before 2022 and increase at least 50 brand-new electric vehicle models. In February this year, Beijing Benz purchased a part of idle capacity of BAIC in Shunyi and Beijing Benz's capacity of the new energy vehicle will be greatly expanded. To be specific, the capacity will increase by 150,000 units in the first phase and increase to more than 300,000 units in the future. It is expected that the first full electric SUV model will be released at the end of 2019/at the beginning of 2020 and electric vehicle product mix including EQA will be launched successively.
Based on the aforesaid two points, we expect Beijing Benz to still maintain a fast growth rate.
Recovery in sales volume of Beijing Hyundai
Affected by the intensifying market competition and the political event between China and Korea, in 2017, the annual sales volume of Beijing Hyundai dropped by approximately 30% yoy to nearly 820,000. However, with the political impact fading away gradually, and moves such as a series of price promotions and new car introduction, the monthly sales volume of Beijing Hyundai has risen from 40,000 units in the second quarter to 100,000 units in the fourth quarter. In the first five months of 2018, the total sales volume of Beijing Hyundai exceeded 330,000 units, up 27% compared with the same period of last year and has recovered to the level with the same period in 2016, so it is highly probable it will turn losses into gains in the whole year.
BAIC's self-owned brand seeking to live on by break an arm
In 2017, BAIC's self-owned brands sold 236,000, down 48.4% yoy, with more than RMB6.3 billion of losses. From the perspective of the sales volume in 2018, BAIC's self-owned brand has not turned the tide. The company took measures to divest of loss-making assets, including transferring idle capacity to record a book profit of RMB1 billion and divesting of its low-end sub-brand Weiwang. We expect that the self-owned brand will stay in the red in 2018, but its burden on the company will be decreased.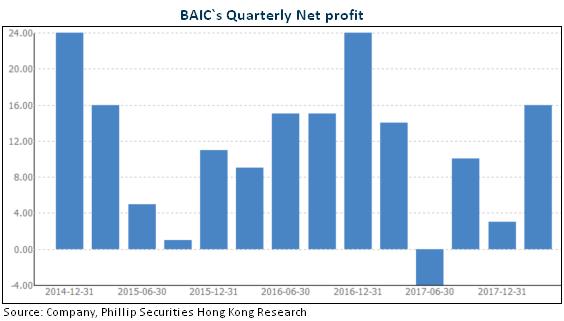 Financials