Investment Summary
- Stable growth in 2017 with effective cost controls;
- Improving occupancy of some assets and disposal of one property;
- AEIs underpin future growth.
Business Overview
Stable growth in 2017. Fortune REIT reported revenue of HKD2030.3mn (+2.8% YoY) and net property income of HKD1456.7mn (+3.3% YoY). Higher net property income growth than revenue increase is mainly attributable to effective cost control measures, given continuously decreasing coat-to-revenue ratio from 26.4% in 2016 to 26% in 2017. Income available for distribution amounted to HKD 970.8mn representing YoY growth 3.8%, due to faster net income growth and declining financing cost. Finance costs over revenue ratio decreased to 13.21% compared 14.4% in 2016. We see that interest cost for 60% (2016: 67%) of outstanding debts was hedged through interest rate swaps and caps, which will cushion potential financial risks with expected US interest rate hike and tapering of Fed balance sheet. Meanwhile, Fortune REIT has kept steady dividend, given 2017 final dividend HKD0.2525 implying 3.27% YoY growth.
Effective cost controls. 2017 property operating expenses (excluding manager's performance fee) increased by 1.2% YoY to HKD528.3mn. Cost-to-revenue ratio continue to decline to 26% (2016: 26.4%), the lowest level since 2011. This is due to management's continued efforts in energy saving, given reduced electricity consumption and lower utility expenses in 2017.

Improving occupancy of some assets. Fortune REIT currently operates 17 property assets in HK, comprising approximately 3.18mn sq.ft. of retail space and 2713 car parking lots. The portfolio now has 1392 tenants, of which top 10 together contributed 27.8% to gross rental income and accounted for 22.4% of total GRA. Tenants in the non-discretionary trades made up around 70% of total GRA, including supermarkets, food and beverages as well as services and education. Occupancy continue to improve, given overall occupancy rate climbed by 1.4% to 98.1% in 2017 and majority property assets achieved better occupancy (i.e. Fortune Metropolis +2.9%, Caribbean Square +1.7%, and Hampton Loft +33.6%). We attribute this to effective measures involving optimizing tenant mix, retaining quality tenants, and achieving early commitment to renewal before leases expire.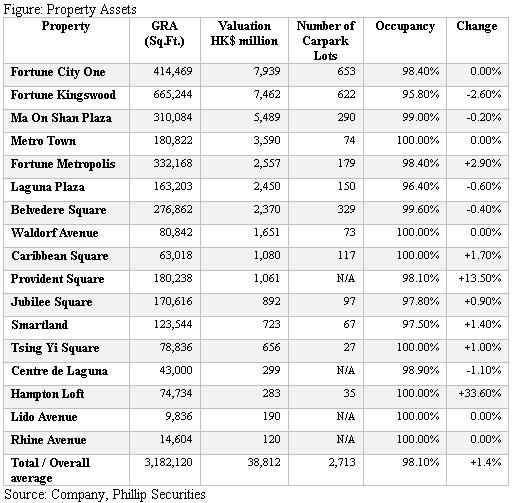 Proposed sale of Provident Square in 2018. In Dec 2017, Fortune REIT disclosed disposal of Provident Square for HKD2bn at 1.8% yield. The disposed value is 3.1 times its purchase price and 88.5% over its appraised value as at 30 Nov 2017 after 5-year holding period. The deal results in a gain of HKD921mn after completion on 28 Feb 2018. The proceeds will be used in asset enhancement initiatives (AEIs), debt repayment, etc. We expect debt over asset ratio to drop after the transaction.
AEIs underpin future growth. AEIs of Fortune Kingswood will commence in 18Q2. Fortune Kingswood is now the largest asset of Fortune REIT, contributing 18.5% of portfolio revenue and 19.2% of portfolio value (HKD7426mn). It was set up in 1996 without any renovation since. It is believed that Fortune Kingswood has great potential to be unlocked for being the largest shopping mall in Tin Shui Wai. Proposed AEIs will build Fortune Kingswood a regional shopping and entertainment hub absorbing more customers from Yuen Long area. The first-phase project will be launched in18Q2 focusing on West Block renovation with an expected capex of HKD150mn. We are positive on Fortune Kingswood's potential to expand catchment and boost future income.
Financials