Investment Summary
- Robust results in third quarter with improving profit margin;
- Share based incentive plan demonstrates strong management confidence;
- Strategic cooperation relation with BGI underpins future development;
- Smart pharmacy and acquisition of Guangdong Hengyuan further consolidate the leading position in TCM decoction pieces market.
Business Overview
Strong results in 17Q3. As up to the end of September, Kangmei Pharma recorded revenue/net profit of RMB19.5bn/3.15bn (+18.59%/+21.58% YoY), and net operating cash flow rose by 130.65% reporting RMB1.5bn due to sales hike. Gross profit margin increased by 1.4ppt compared with that in 16Q3 and net profit margin increased by 0.71ppt. We attribute expanding profit margin to improving weights of three segments which have higher GPM (namely TCM decoction, drug trade and medical instruments). We expect that GPM continues to improve with controlling segments with lower profit margin and accelerating the development of businesses including TCM decoction.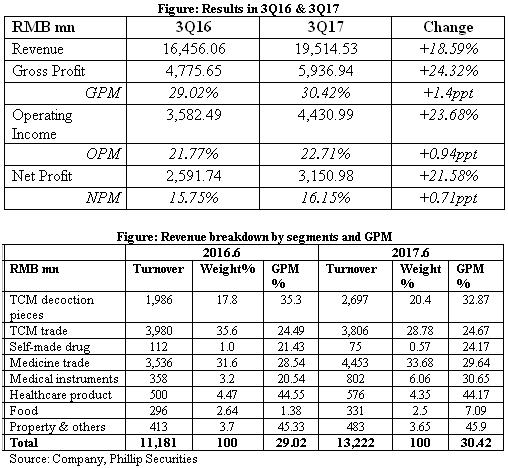 Restricted stock incentive plan. The company published restricted stock incentive plan on Oct 28, which set revenue growth targets at 15%/30%/45% in 17/18/19, based on the topline in 2016. The incentive plan involves 641 senior staff making up 4.66% of total staff and 28.43mn restricted shares, which account for 0.57% of total company shares, priced at RMB10.57. The incentive scheme is believed to stimulate staff's incentive to work more proactively, and we see strong confidence of the management to boost sales in following years.
Strategic cooperation agreement signed with BGI. The company announcement on Nov 1st declared that a strategic cooperation agreement was signed with BGI (300676.SZ) to co-establish research institution or firm in future. We expect that two companies are going to build cooperative relationship in nurturing talents, technology research and platform development. BGI, with a focus on research and applications in the healthcare, agriculture, conservation, and environmental fields, is a leading genomic organization and has established subsidiaries over the world. Leveraging on BGI's technical strength, Kangmei is expected to facilitate the development of TCM products, and accelerate the research of gene detection, standardization and clinical evaluation of traditional Chinese medicine, which will benefit long-run growth of the company.
Consolidation of leading position in TCM decoction pieces market. On Oct 28, the company announced the acquisition of Guangdong Hengyuan Pharma with a price no more than RMB140mn. Hengyuan was engaged in production and distribution of TCM decoction pieces with revenue/net profit of RMB203mn/9.14mn in 2016. Meanwhile, the smart pharmacy business continues to make progress. In the first half, Kangmei's smart pharmacies start into operation in Guangzhou, Shenzhen, Beijing, Chengdu and Shanghai, which involving disposing hospital prescription, offering ready-to-use decoction and delivering service. We see that the company further consolidates the leading position in TCM decoction pieces market and enhances exposure to end customers through smart pharmacies.
Hospital operation business. After the acquisition of Meihekou City Central Hospital, Kangmei acquired Kaiyuan City Central Hospital in 1H17. Meanwhile, the company operates Kangmei Hospital and another five hospitals in Jilin Province. The company can charge management fee and takes over the supply chain business at the same time. Given strong cash flow of hospitals and increasing residents` healthcare expenditure, we expect hospital operation business to become future growth momentum. Under two invoice system, outsourcing operation and supply chain can help hospitals to improve efficiency and better control purchasing cost. Kangmei has an integrated value chain covering whole industry, so we expect that it leverages on capital advantage and professional resource platform to further explore the hospital operation market.
Investment Thesis, Valuation & Risk
Our valuation model gives target price of RMB25.5, based on assumption that revenue growth rate will be 19%/17% in 17E/18E. Given the TCM decoction pieces are not affected by zero mark-up policy (remaining 25% markup), this business is expected to enjoy favorable policy and growing market demand. Meanwhile, we also see future divers coming from the improvement of business structure, attractive stock incentive plan and promising hospital business. We estimate the net profit to be RMB4.08bn/4.75bn in 17E/18E, representing forward PE 27.45x/23.59x in 17E/18E. (Closing price as at 9 Nov 2017)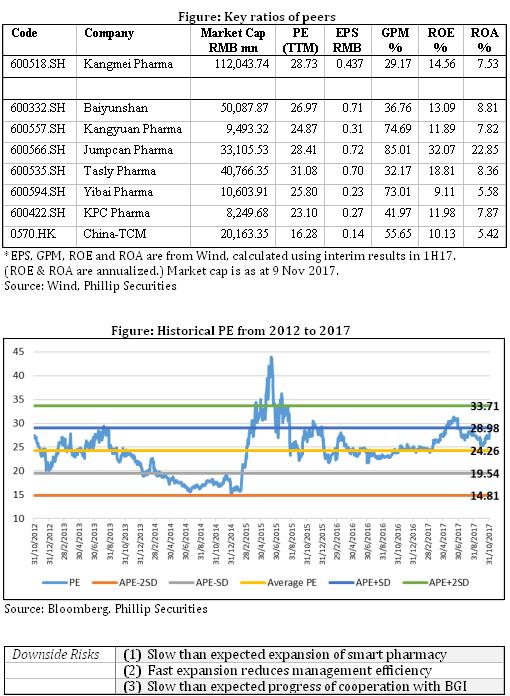 Financials