Investment Summary
NetDragon is the leading developer, operator and publisher in game industry since it started to develop online game in 2001. In 2010 the company set up Huayu to explore education business and now education income has made up over 50% topline. Although the education business is still in loss, we see that game segment provides strong cash flow to the company. It is expected that the company is likely to turn from loss to positive earnings in 2017E. We are positive on the steady growth of game business. It is expected more new orders for education hardware and programme as well as potential monetization of software products. Our SOTP model derives the target price of HKD23.88, `BUY` recommendation. (Closing price at 9 Feb 2018)
Business Overview
NetDragon, established in 1999 and headquartered in Fuzhou China, is a global leading creator of online community. In 2001 NetDragon published 17173.com, China's top online game portal, which was sold to Sohu two years later for USD20.5mn. In 2013 NetDragon transferred its self-developed and popular smart phone service platform 91 Wireless to Baidu with a consideration of USD1.9bn, which prepared amplified cash capital for education business development. Recent years, the company focus gradually shifts from game industry to education sector. In 2015, the company acquired Promethean, the famous education hardware manufacturer, to take first steps towards global education market; for China market, the company established a wholly-owned subsidiary Huayu (Elernity) aiming to build the largest and the most complete service platform system for education market by growing hardware, software, platform and resources. At the same time, the company proactively explores VR/AR field and tries to commercialize the technology in areas involving game, education and household, and invested in two AR technology firms in 2016.
We see the company revenue continues to increase these years given the FY12-16 revenue CAGR of 25.99%. By segments, game business has been growing stably while contribution from education business has surged since 2015. Now education business accounts for more than 50% turnover.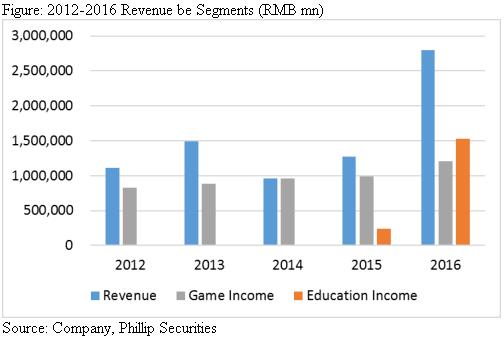 The company has started to set up team for developing large-scale online games since 2001. Now it has become the prominent developer, operator and publisher of online games in China, with 50 self-developed online games and quality mobile apps covering more than 180 countries. As up to end of June 2017, NetDragon operates game products including Conquer Online, Eudemons Online, Heroes Evolved, Zero Online, Way of the Five, Tou Ming Zhuang Online, Tian Yuan and other games, ranging from online games to mobile apps. One of its classic game IP (intellectual property), Eudemons (魔域), has absorbed plenty of players since launched in 2006 with currently over 170mn registered users and makes significantly contribution to turnover every year.
NetDragon adopts the main IP strategy, which is to enhance operation of existing classic IP online games (like Eudemons and Heroes Evolved) and place more importance on developing mobile apps under these popular IPs. Game business generated income of RMB1.21bn in 2016 representing 22.8% YoY growth, in which over 70% revenue was from Eudemons series. NetDragon spends power to analyze active quality users, in order to improve user experience of most active and valuable customers. As a result, game ARPU reached RMB369 in 4Q16, growing by 28.6% compared with last year. And we see income from game segment during first three quarters in 2017 increased by 43.4% YoY to RMB1.24. We attribute this to rising contribution from flagship online games (mainly Eudemons and Heroes Evolved) and mobile apps. In 17Q3 we see 51.7% increase in ARPU and 38.4% increase in APA. These progresses reflect the management's efficient operation and correct strategic vision.
NetDragon is a pioneer in field of global online education and mobile internet education. Being engaged in internet and game industry for so many years, the company has accelerated abundant technical experience and talent resources, and continues external expansion to enhance technical strength (i.e. acquiring Cherrypicks International & Chivox) as well as distribution network (i.e. acquiring Promethean). Nowadays the company is able to provide integrated educational solutions ranging from hardware to software, from platform to content resources. Meanwhile, NetDragon cooperates with authoritative educational institutions to invest in R&D of smart learning and collect top educational resources at home and abroad. The company has established strategic cooperation with educational institutions such as PEP, NCET, BNU and Harvard, and has built collaborative partnership with BBC and Pearson International (which is known as the largest education publisher in US). Through strategic investments, its education business has entered over 100 countries and 1 million classrooms, offering services and products to over 2 million teachers and 30 million students. We see income from education segment has dramatically increased since 2015. In 17Q3 education revenue reached RMB595.9mn growing by 52% YoY and taking up over 56% in topline. Currently main sales comes from hardware products.
(1) International education business. The company acquired the global educational hardware giant, Promethean in 2015. Promethean is one of two famous interactive educational technology developers (another is Smart Education). It provides teaching hardware products (i.e. ActivBoards, ActivPanels) and interactive teaching software (i.e. ClassFlow), covering 100 countries in the world. It focuses on Britain, US and other developed countries, with targeting K12 (kindergarten through twelfth grade) students and teachers as core customers. Promethean's core product, Classflow, is a lesson preparation software, which helps to enrich classroom learning experience. With Classflow and interactive whiteboards, it is convenient for teachers to present teaching contents, share digital data with students, conduct testing and voting, and arrange group study. This segment keeps developing quickly since the acquisition, given 17Q3 revenue of RMB525.9mn up by 56.2% YoY.
(2) Domestic education segment. NetDragon set up a wholly-owned subsidiary, Huayu (Elernity), aiming to build the largest and most complete service platform system for education market segments, by growing hardware, software, platform and resources. Now, domestic education business covers six study phases, namely preprimary education, basic education, higher education, vocational education, enterprise training, non-degree and life-long education. The company incorporates Promethean's outstanding hardware technology into its own production and builds the first K12 education tablet "101 Student Pad". NetDragon integrates the open education cloud platform and education resource base, and an intelligent teaching and learning overall solution "101 Smart Classroom" targeted at K12 stage was researched and developed.
NetDragon strives to facilitate the synergies among game, education and acquisition of edge-cutting technologies. We highlight that this pattern is going to present good complementary effect in terms of cash flows and technology application. Growing game segment gives cash support to education business expansion as well as technology acquisition; while favorable policies and developing market demand are likely to drive education business to achieve notable growth in long run; at the same time, proactively improving technology strengths by external expansion and applying advanced technologies such as VR/AR and intelligent voice in fields like game, education and household, help to underpin the future development of the company.
Game Business to Stably Grow
Growing industry. 1) Chinese game industry recorded revenue of RMB151.3bn in first three quarters during 2017 and it is estimated to generate totally RMB201.1bn (+23.1%) income in 2017E. After rapid growth during past years, Chinese game industry is predicted to experience slower expansion in future, when further activating existing clients and upgrading service quality become more important. Increasing per capita income and more popular entertainment lifestyle are expected to secure steady growth of game industry. 2) Trendy mobile apps keep relatively quick expansion. Mobile apps, client-end game and web game respectively contributed 55.8%, 34.6% and 9.6% to industry turnover in 2017E. By customer base, the user number of mobile apps scaled up by 9% to 460mn; client-end game kept similar user base (150mn) to 2016; while the number of web game players decreased by 2% to 240mn. 3) VR games is likely to boom. As the development of related devices and ever-growing need for better playing experience, VR games leveraging on its unique charm and powerful infectivity attract more and more players. In 2017 the user amount of VR games grew by 100% to 40mn and more consumers have visited VR experience halls. It is estimated that VR ecosystem will form in 2020 and the value of global VR game industry is expected to reach USD14.95bn then.
We highlight that the future growth momentums come from following aspects: 1) New mobile apps. The company is going to launch more mobile game apps this year under popular IPs. Its classic IPs (Eudemons, Heroes Evolved) has accumulated broad users who may be transferred into players of related mobile apps. New apps are likely to achieve great user base, given the company has technical advantage, strong distribution channel and affluent operation experience in game industry. 2) New VR/AR games. The company proactively explores VR/AR fields given its investment in two advanced AR firms (Cherrypicks Alpha & ARHT Media) in 2016. VR HBQ is a VR game launched in 2016 which combines action competition and virtual reality technology to bring excellent playing experience to users. In 2018, NetDargon is going to launch a VR app under Eudemon and another AR app under Heroes Evolved. It is projected that the VR game player base will continue to grow in following years assuming more devices going into commercialization. 3) Increasing ARPU through further understanding of user habit and improving playing experience.
Monetization of Education Business
We address the monetization path of education business as "Hardware—Software—Community/ Platform". Currently the majority of education segment revenue is from international education business, of which consist of hardware sales while software do not create much cash until now. We estimate that in short run, hardware distribution will still serve as the cash cow; in long run, developed software products will cultivate a social e-commerce platform, after absorbing enough users and building high customer loyalty. Potential revenue of this platform may come from students, parents and resource suppliers and other users.
The software products procure customers starting from catching teacher users (by offering lecture preparation and quiz tools) then accessing students (by offering homework tools) as well as parents (by providing communication tools). We are positive on monetization potential of this path. The teachers play key role in education and make important instructions during students study, so that they could directly encourage the students and parents to use these apps to finish quiz and deal with other stuff. This gives the company a chance to charge for customized products and services. For example, the app could automatically produce exercises for students according to their weaknesses grasped by the data center. We roughly estimate that if current 60mn student users all can use the apps to do their homework and 50% of them choose to pay for customized products, RMB15 per students every year, thus RMB450mn may be generated from this channel.
Besides, NetDragon's study resource platform can combine buyers (teachers, students and parents) and content suppliers (i.e.publishers) thus to charge commission fees to suppliers. As its study software attains students study records, this could help suppliers to find most targeted potential buyers who really need their products. This platform is now still striving for broadening customer base.
International Education Business
Now the international education business is main stream of education segment income. Promethean delivered revenue over USD200mn as up to Sep end last year, with GPM 28%. According to Futuresource Consulting, NetDragon's K12 interactive display solution is ranked at NO.1 in terms of market share in the world (excluding China). We predict future drivers coming from: 1) Coming monetization of software products in developed market. Promethean users include 1.7mn teacher and 1.3mn students overseas. This year the company is trying to charge some fees through these apps. We expect the income from software to increase if this commercialization goes smoothly. 2) New orders from developing regions. One Belt One Road policies benefit the company in expanding business abroad. In 17Q1 NetDragon obtained an USD30mn contract in Russian which means that the interactive display products will be installed in 7,600 classrooms. We also know from our checks that the company is actively preparing and striving for new orders in Turkey and Malaysia. We expect more purchasing contracts to be obtained in developing countries. Although GPM of this business is slightly lower than orders in developed areas, OPM is approximately the same due to lower distribution expenses.
Domestic Education Business
We see that revenue from China education business continue to hike, given 17Q3 contract sales reached RMB150mn. Chinese government continues to increase budgetary expenditure for education. In an educational reform scheme, it is clearly put forward that fiscal expenditure on education should account for more than 4% in GDP. With continuous growth of GDP, funds for education increases year over year, up by 8.2% to RMB3.16trn in 2016. A plan for education informatization also specifies that related state expenditure should not be less than 8% of education expenditure. Thus it is estimated that the expenditure for educational informatization in 2016 is about RMB252.8bn. With the implementation of national policies, local governments pay more attention to secure educational information outlay and launch more related procurement projects.
In 2017, NetDragon has won a number of government/school contracts, involving classroom renovation and facilities. In addition to public fiscal procurement, the company promotes software products through various channels, like through cooperation with PC hardware manufacturers, courseware competition or Education Bureau promotion. It tries to extend flagship product 蔵 Education PPT" to more teachers users. At the end of Nov 2017, the installation amount of 101 PPT for K12 teacher users reached 1.1mn in Nov 2017, finishing the whole year target ahead of schedule. In future, the company will continue to expand user base through various resource.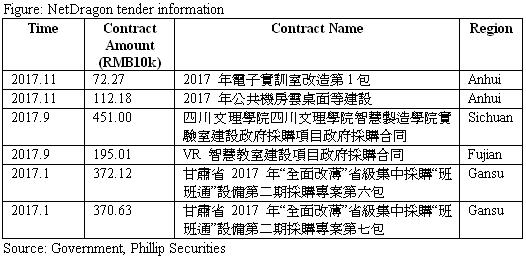 Investment Thesis & Valuation
We adopt SOTP valuation to calculate the stock price. 1) Game business: PE method. We expect the game business to keep stable growth with consideration of new game products to launch soon and efficient operation of the management. Assuming revenue growth of game business to be 20%/18% in 18E/19E, relatively steady profit margin and tax rate of 15%, we predict earnings of game business in 18E to be RMB505mn. We choose 8 listing game firms and get the PE median of 15.98. Conservatively, we give target PE 12x and derive the NAV of game business to be HKD9.39 per share. 2) Education business. 11 HK listed education firms has PS median of 13.45x. The company's education business still reports loss now, so we refer to PS of two firms which reported loss (2371.HK &1082.HK) and use their average PS 3.73x to get value of education business should be HKD14.48 per share. Therefore we get our target price HKD23.88. Considering the great market volatile recently, we suggest buying during price dips.(Exchange rate=0.8228)

Risks
Fail to attain international education purchase orders;
International education business fail to monetize;
Domestic education business fail expectation;
Game business fail expectation;
Fierce competition.
Financials